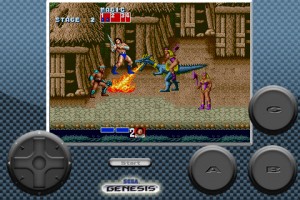 At absolutely no fanfare or warning,
SEGA's
Golden Axe
has hit the iPhone and
iPod
Touch app store! Rather than writing a full article (you'll notice I already did one
earlier
today)
I'll lazily direct you to the article at touch arcade.
But a few brief comments from me: SEGA has thankfully used the full Genesis control pad layout, but it looks rather cramped and oddly placed. Those who have bought the game seem to enjoy it much more than the iPhone's
Sonic the Hedgehog
port, probably due to the fact that
Golden Axe
doesn't rely on high speeds. Also, the accelerometer is an optional control with a tilt left or right for onscreen movement. Cool stuff. You want it? Buy it here for $4.99.